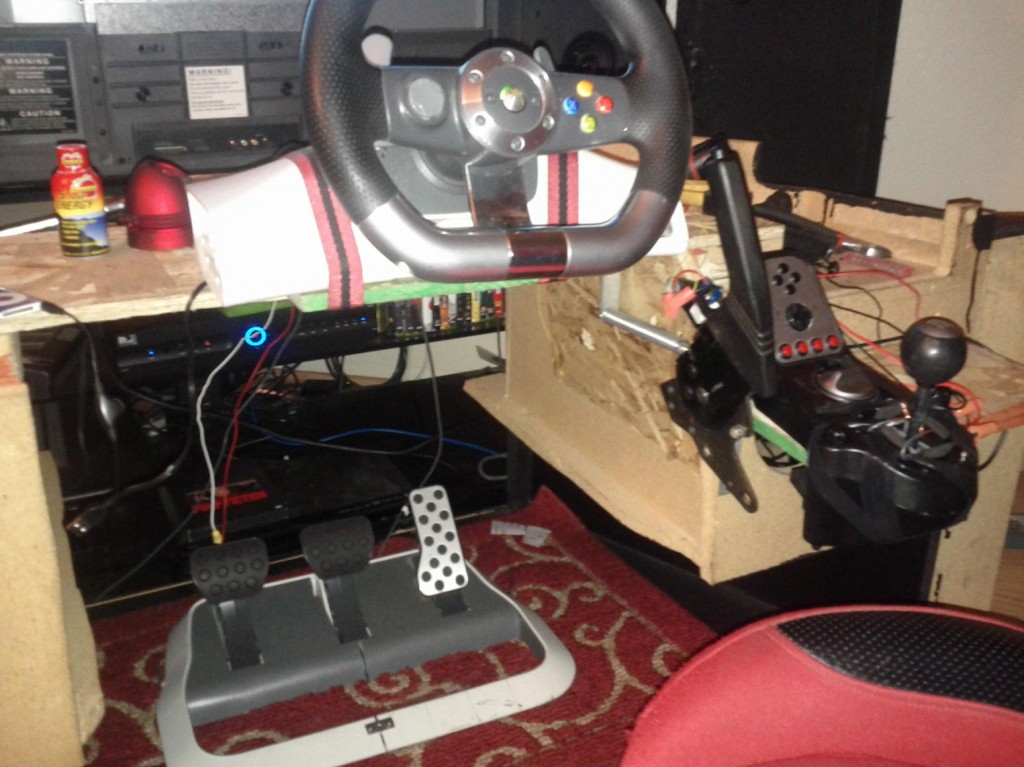 FORZA MOTORSPORT 4 VS GRAN TURISMO 5
by B.Young
Well I'm sad to say I gave up my 350Z, but since I'm saving money for a new build, I've been spending more time on Racing Sims than usual. I've been Sim Racing for 8 years and drifting for 4 years. I am lucky to have the experience of successfully drifting several different types of cars(thanks to trusting friends) so I would say my skills are good enough to determine if a simulation racer is convincingly realistic and natural or not to me. I even built a home-made cabinet out of a broken big-box TV with a modified XBOX steering wheel adding a hand brake, clutch pedal and shifter from the Logitech G25 wheel.
Gran Turismo 5
I played GT5 with the Logitech G25 wheel modded with a handbrake. I was playing Forza 3 before GT5 was finally released so I felt that GT5 should rival what F3 brought to the table. Sadly overall I felt it didn't.
Road racing was excellent in GT5. Using the G25 Wheel sold the feel perfectly with its (up to)900 degrees of rotation, clutch and 6speed shifter
but the drifting was quite unrealistic and did not have a natural feel or response from the behavior of the tires. The wheel had a delay when free spinning from transitions so I had to use an unrealistic alignment setup just to get the FT-86 and the S13 to behave more like a real drift car. The transitions were a gamble most of the time anyways hurting the fun factor. I ended up rallying more than drifting cause it was more fun and natural to drive.
A big plus for me was the night drifting in the city courses. Drifting tandem with friends online is always fun plus really big smoke when you get a good slide going! Graphics and detail was really vibrant. Photo shop was cool. In the end I went back to Forza 3 cause there wasn't much keeping me interested in GT5. Other than setting alignment, there was not much else you could really do to add a diversity to your favorite car. No custom painting or graphics, no engine swaps, or even unique games like Cat and Mouse or Virus Tag.
Forza 4
Well I was more satisfied than disappointed, but when I'm drifting an S13 hatch left hand drive with a screaming RB, its like it doesn't matter cause I'm having so much fun. They were serious when the designers said they were focusing on real tire feel and simulation. The tire feedback was so realistic I felt like I was driving more on natural reflex than compensating for any slight unrealistic physics. I immediately got sucked into the world tour racing, then started exploring other features of the game. Drifting really changed from F3 to F4 for the better.
They finally got it right in my opinion. I worried less of virtual physics and felt a more natural physics simulation to the cars behavior in every style of racing and game play. Every little adjustment to the car was felt immediately in test driving. I can use real world drift alignment tunes with proper tire settings and have awesome control of the cars I build in F4. I'm not big into slow drifting for points. I would rather have tandem battles at high speed or tandem with skilled control through complex turns. Like F3, F4 has engine swaps for almost every car and the custom designs you can make or buy for any car. One addition I found myself playing a lot is Car Soccer! It is very fun when you get a good team together.
The graphics are the best I have ever seen! every car in the game is so deeply detailed its uncanny! The lighting is nothing like I've ever seen. AutoVista is fun with the Kinect to open up the select group of cars and learn all the specs. Even Jeremy Clarkson of Top Gear gives his insight on each car.
I could go on with all the cool stuff in the game, but I need to get to the bad as well. There are no night courses! WHY!?! Drifting Fujimi Kaido at night was going to be the most epic part of this game for me! Some of the available engine swaps from F3 are not available in F4. Again WHY!?! Why can't I put a 350Z engine in any S chassis!?! This is also with many other cars I'm sad to see changed. It was my favorite combo chassis and engine in F3. I will admit the addition of the American 240SX hatch was awesome and well balanced with an RB engine swap. Here are some of the cars they added: SC300, Starion, XB Falcon, 65′ GTO, 89′ MR2, GMC Cyclone, I even made a drift wagon out of an Audi A4! Online is 16 drifters at one time. With so many novice or trolling players, its hard to get a good clean run without someone finishing early, R1 troll the race, or a drifter who just bulldoze everyone he comes near. You can open a public drift(or any other type of game) session where anyone who is playing F4 can look-up and join in. You can start up a car club and share cars too.
I saw a steering wheel for F4 that is pretty epic. http://www.fanatec.com/
I'm sure I'm forgetting something on both games, but that's all I can remember for now. Sorry it got so long, but I hope this was helpful for anyone who is into racing and drifting in Simulation. WRC for XBOX360 coming soon!
XBOX Gamer Tag: BYRacing
http://www.drifting.com/forums/off-topic-forum/30668-forza-motorsport-4-vs-gran-turismo-5-a.html
FORZA MOTORSPORT 4 VS GRAN TURISMO 5 by B.Young Well I'm sad to say I gave up my 350Z, but since I'm saving money for a new build, I've been spending more time on Racing Sims than usual. I've been Sim Racing for 8 years and drifting for ...
[Read More...]
Tags: FORZA MOTORSPORT 4, FORZA MOTORSPORT 4 VS GRAN TURISMO 5, GRAN TURISMO 5