Formula Drift Florida Confirmed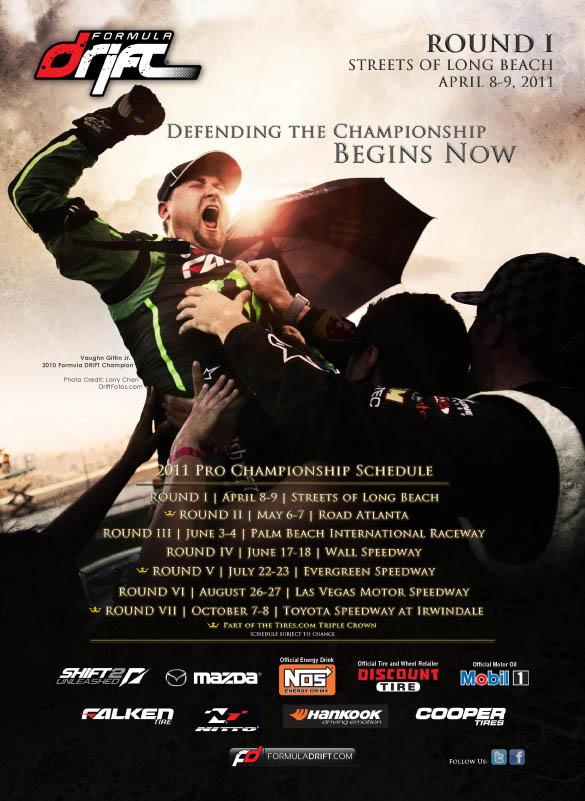 1 Streets of Long Beach Long Beach, CA April 8-9
2 Road to the Championship Road Atlanta Atlanta, GA – May 6-7
3 Invasion – Palm Beach International Raceway Palm Beach, FL – June 3-4
4 The Gauntlet Wall Speedway Wall, NJ – June 17-18
5 Throwdown Evergreen Speedway Monroe, WA – July 22-23
6 After Dark Las Vegas Motor Speedway Las Vegas, NV August 26-27
7 Title Fight – Toyota Speedway at Irwindale – Irwindale, CA – October 7-8
Formula DRIFT Announces 2011 Pro Championship Schedule;
Palm Beach International Raceway Added to List of Venues
Long Beach, Calif. – January 20, 2011 – Formula DRIFT has announced the official 2011 Pro Championship Schedule of Events. Palm Beach International Raceway has been added to the list of venues and will host Round 3 on June 3-4, 2011.
"Formula DRIFT consistently pushes to grow the sport of drifting and entering our eighth year as a professional series we are proud of where we have been able to take the sport," said Jim Liaw, president and co-founder of Formula DRIFT. "We are fortunate to work with the top venues for motorsports in the nation and provide quality entertainment to fans across the country."
The 2011 Formula DRIFT Season Schedule
Round 1 – Streets of Long Beach – Long Beach, CA – April 8-9
Round 2 – Road to the Championship – Road Atlanta – Atlanta, GA – May 6-7
Round 3 – Invasion – Palm Beach International Raceway – Palm Beach, FL – June 3-4
Round 4 – The Gauntlet – Wall Speedway – Wall, NJ – June 17-18
Round 5 – Throwdown – Evergreen Speedway – Monroe, WA – July 22-23
Round 6 – After Dark – Las Vegas Motor Speedway – Las Vegas, NV – August 26-27
Round 7 – Title Fight – Toyota Speedway at Irwindale – Irwindale, CA – October 7-8
For the first time in several seasons Formula DRIFT has added a new venue and will visit South Florida at Palm Beach International Raceway in West Palm Beach. The newly remodeled facility features multiple state of the art tracks. Formula DRIFT will utilize the road course to create a unique drifting course that is to Formula DRIFT standards.
"I have been to the track since the new face-lift and it is truly a remarkable facility," stated Ryan Sage, vice president and co-founder of Formula DRIFT. "From the course expansions, tarmac condition, lighting and the fact that it is situated in South Florida. Palm Beach International Raceway will be a great addition to the Series."
The Formula DRIFT season begins on April 8-9, 2011 with Round 1: Streets of Long Beach in Downtown Long Beach, CA. Tickets will be available for purchase online through the Formula DRIFT website. A new website will be launched in the coming weeks. For information on when tickets go on-sale visit: www.formuladrift.com

downloadfilmterbaru.xyz
nomortogel.xyz
malayporntube.xyz