Well, I can't believe I'm doing this, but my FC is for sale.
There are a *Censored**Censored**Censored**Censored* ton of mods, so many that I'll probably forget some, but that's what pictures are for. I'm open to the idea of parting it out if i get enough interest, but I'd rather just get rid of it all at once. MY
EPIC
LOSS IS YOUR GAIN! There's easily $10,000 in this car.
I'm selling because I'm going in an entirely different direction, and I rarely get the chance to drive this car the way I'd like to. The car starts up and drives fine. It still pulls hard and has no known issues. Only thing it needs is new tires!
ASKING PRICE: $5,000 obo, I'm a motivated seller!
chassis:
Super clean underneath. No rust under the drive or passenger floor, no rust on the front or rear subframe, no rust pretty much anywhere that I've found.
86 base model, was gray I painted it brown.
Did full S5 body conversion,
It's missing the molding but I have all the pieces just not painted.
Front/Rear S5 Bumpers
S5 Front fenders
S5 Tail lights
Interior:
Mostly Gutted
Has good condition S5 Black dashboard and door panels
Stock Seats and seatbelts
Autometer Boost, Water Temp, And Oil Pressure Gauges
Suspension:
New tie rod ends
New Ball Joints
Tokico Blue Shocks
Tein Springs
De-powered power steering rack (15:1 ratio or something like that, the tightest one)
Rear steer Eliminators
MMR delrin front LCA bushings
TII sway bars
5 lug all around
TII brakes
Ceramic Brake Pads
Repacked Wheels Bearings up front
ARP Wheels Studs up Front
MB Motoring wheels, 17x9
Needs new tires!
Drivetrain:
S5 TII Tranny, 3rd gear misbehaves up sometimes, synchro is probably going bad
Kevlar Clutch
S5 TII flywheel
S4 TII rearend
Tomei 1.5 way LSD, only like 6,000 miles on it!
Properly broken in
Rebuilt Halfshafts
Engine Internal:
S5 TII rebuilt about 6000 miles ago
Streetported Intake/Exhaust Ports
New OEM apex seals and all new springs inside the engine
FD Stat. gears
New Rotor and Stat. Gear bearings
Mazdatrix 125psi oil pressure regulator
Fuel:
Two rebuilt/flow tested OEM 550cc primaries
Two new marren 1680cc secondaries
Walbro 255lph fuel pump
New High Pressure rubber Fuel Lines
New Fuel Filter
Engine External:
-AN Stainless braided oil cooler lines
Koyo Radiator
S5 TII Upper/Lower Intake manifolds
Stainless exhaust Manifold
Tial 44mm Wastegate
Upgraded Turbo (see below)
-AN Stainless Braided turbo feed and return lines (-4 feed, -10 return)
Manual Boost Controller
Stainless 3 Inch Downpipe
Borla XR-1 (I think) pre-silencer, stainless, 3"
Apex'i Catback, 3"
Custom Front mount piping, 2.5" aluminum
Silicone Couplers
Ebay Intercooler
Haltech E8 standalone ECU
Tuned by defined autoworks!
New NGK OEM Sparkplugs
Upgraded Plug Wires
big K&N intake Cone filter
a REAL HKS Blow off valve
Dual Alt. belt pulley
Odyssey Mini Battery- Works Great!
Turbo:
its an ITS brand T4 Turbo (a rebadged Garrett). I Don't know a lot about this turbo because I bought it used from a friend who I know put less than 2000 miles on it. Its roughly the size of a T04e. I will ask my friend for more details when I get the chance.
It spools really nicely and hits full boost by 3500 RPM!
Here is a dyno chart from when it made 360 wheel at 15psi on a dynapack. It later dyno'd at 372rwhp @ 13psi on a dynojet, but I don't have a digital version of that chart. Also, the car ran a 12.7 @117 with a terrible driver (me).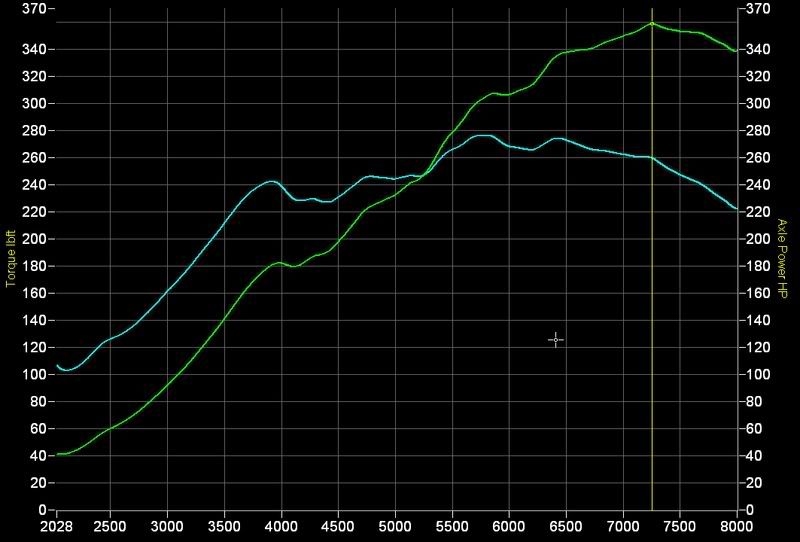 And here's pictures: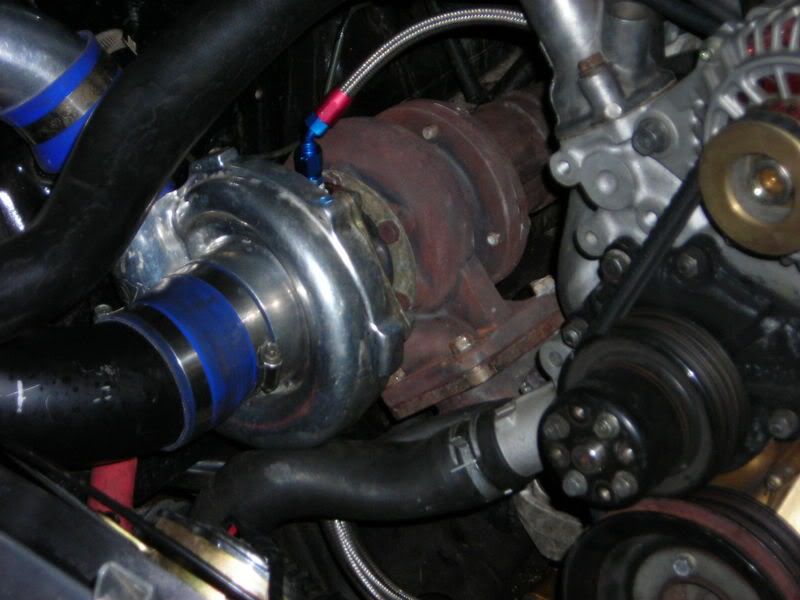 (yes, the radiator hose was touching the turbo. It's not like that anymore, it had the hose on there wrong)