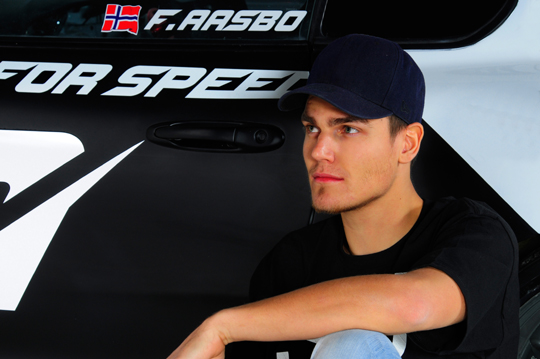 FREDRIC AASBO, SCION Driver For Team Need for Speed and Papadakis Racing
Team Need for Speed and Papadakis Racing join forces for 2011 Formula Drift season with 2010 FD Rookie of the Year Fredric Aasbo behind the wheel
BALTIMORE, Md. (February 10, 2011) — Need for Speed and Papadakis Racing have partnered up for the 2011 Formula Drift season and have brought on board the 2010 Rookie of of the Year and Nordic Drift Champion, Fredric Aasbo, to drive the Need for Speed 2011 Scion tC.
Fredric Aasbo proved very successful in the 2010 season, finalizing the year in 13th place and voted Formula D's "Rookie of the Year". Joining forces with Need for Speed and Papadakis Racing will make for a strong season for an all-out, foot-to-the-floor drifter such as Fredric. "Being brought onboard by the Need for Speed family and to partner with Papadakis Racing is more than a dream come true – it's the opportunity of a lifetime," says Fredric. "I feel extremely honored and I could not feel more inspired! I have huge shoes to fill, following in the footsteps of my idol Tanner Foust, but I can assure you I will give it all I've got – and then some – in the 2011 Formula Drift Championship piloting the Team Need for Speed Scion tC."
The Papadakis Racing team, whose extensive history in motorsports shows continuous achievements and success, is building a brand new competition car for talented drifter Fredric Aasbo to pilot in the rapidly approaching Formula Drift season. "Our new 2011 Scion tC is yet another challenging build," says Stephan Papadakis of Papadakis Racing. "As other Formula D teams are still trying to keep up in competition by changing to V8 engines, we will break the trend and compete with a 2.7L turbocharged four-cylinder engine. I am confident that this car with Fredric behind the wheel is Championship quality. That is our goal!"
Adding a new car and driver to their roster, Papadakis Racing is excited to take on the challenge of putting the pieces together to build a strong Formula Drift effort for a highly-anticipated 2011 season. Stephan continues: "After watching Fredric drive in 2010, I felt he had what it takes to make it big in Formula Drift. He was my first choice when we looked for a new driver and the new Scion tC will suit him well. Our plan is to work together and build from what he started as Rookie of the Year in 2010 to Champion of the series."
Papadakis Racing's previous driver, two-time FD champ Tanner Foust, will be stepping back from Formula Drift in 2011 due to transitions in his career. "Tanner is an amazing driver and great personality," says Stephan. "It has been a pleasure to work with him for five years of drift. Our team thanks him for his hard work and determination."
With the Formula Drift season opener right around the corner in Long Beach, California on April 8-9, the Need for Speed Scion tC will be there to make its competition debut with Fredric Aasbo in the driver's seat. For more information on Team NFS visit TeamNeedforSpeed.com, become a fan at Facebook.com/NeedForSpeed, or follow NFS on Twitter @NeedforSpeed.
FREDRIC AASBO, SCION Driver For Team Need for Speed and Papadakis Racing
COMMENT/CONTINUE HERE
http://www.drifting.com/forums/general-chat-drifting-discussion-news-and-site-updates/30051-fredric-aasbo-scion-driver-for-team-need-for-speed-and-papadakis-racing.html
downloadfilmterbaru.xyz
nomortogel.xyz
malayporntube.xyz