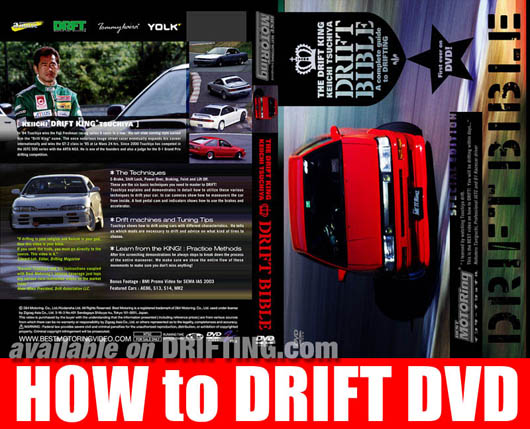 How To Drift
http://store.driftingshop.com/d1grandprix.html
The Techniques
Side Brakes (e-brakes), Shift Lock, Power Over, Braking, Feint and Lift Off. These are the six basic techniques you need to master to DRIFT! Tsuchiya explains and demonstrates in detail how to utilize these various techniques to drift your car. In car cameras show how he maneuvers the car from inside. A foot pedal cam and indicators shows how to use the brakes and accelerator.
Cars and Tuning Tips
Tsuchiya shows how to drift using cars with different characteristics.
He tells us which mods are necessary to drift and advice on what kind of tires to choose.
Practice Methods
After tire screeching demonstrations he always stops to break down the process of the entire maneuver. Mixing in stories from his own experience when he first started drifting, Tsuchiya demonstrates practice methods on how to control your car. Most of the moves involve complex timing and accuracy. We make sure we show the entire flow of these movements to make sure you don't miss anything!
How To Drift
http://store.driftingshop.com/d1grandprix.html

downloadfilmterbaru.xyz
nomortogel.xyz
malayporntube.xyz