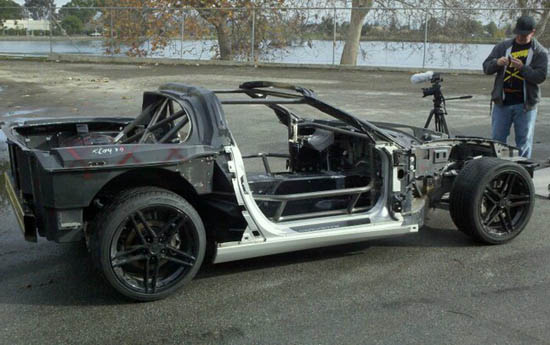 By Luke Lonberger from Blu808
Last year we brought you the Hankook, GM performance, Blu808 2010 Camaro. This year we are introducing the Blu808 X LG Motorsports C6 Corvette Formula DRIFT and Red Line Time Attack Corvette. This is a primary Blu808 effort with partnership, advice, and support from LG Motorsports. Other key members of our Corvette build will be Turn Key Engine Supply, Forgeline, Sparco, Aeromotive, Exedy racing clutch, Lab17 and others.
This thread will be a documented full feature build up of the Corvette.
We will show the following processes in detail.
Complete dismantling process
Weight removal
Chassis modifications
Roll cage design and construction
Pedal box fabrication
Seating mount fabrication
Drivetrain modifications
Engine modifications
Cooling system fabrication
Clutch hydraulics fabrication
Fuel system fabrication
Carbon body fabrication
Aerodynamics
Wiring
Electronics
Suspension design and setup
Steering system modifications
Corner balancing
Paint
Final assembly
Testing.
Any questions or feedback would be great.
Luke
Build start.
Here is our project car. A 2005 C6 base. We would have used a ZO6 but Formula DRIFT won't allow aluminum chassis. Anyway.
Luke Lonberger's Blu808 built C6 Corvette Formula DRIFT Car build thread
CONTINUE HERE

http://www.drifting.com/forums/general-chat-drifting-discussion-news-and-site-updates/29794-luke-lonbergers-blu808-built-c6-formula-drift-car-build-thread.html

downloadfilmterbaru.xyz
nomortogel.xyz
malayporntube.xyz