On the Road to the Championship – The Round Two Preview
By Justin Banner
My, my, my what a wonderful collection of stories we have going for Formula Drift in this 2011 season! Justin Pawlak getting his first win, Vaughn Gittin, Jr, the 2010 champion, not qualifying in Round 1, a new and relatively unknown judge from Canada, Ryan Lanteigne, new engines, and of course we can't forget the new rules for 2011. However, the first thing we must talk about is the course itself, Road Atlanta.
If you are unfamiliar with the circuit, it is a 2.54 mile road course that has a couple of elevation changes within the whole course. This world class facility is the home of the Classic Motorsports Mitty (taking place April 29th-May 1st), which is a sanctioned Historic Sportscar Racing event that includes Historic Motorcycle racing for the first time and the Mega-meet for Megasquirt open source engine computer enthusiasts to enjoy some beer, company, free stuff, and beer. It is also home of the Petite LeMans, where the cars and drivers from the ALMS, LMS, and the 24 Hours of LeMans come to fight it out for 12 hours one last time before the Endurance Racing season is over. Manufacturers from Audi, Peugeot, Aston Martin, Acura, Nissan, Chevrolet and many others participate in the 12 hour classic and many, many great battles and exciting, dramatic events take place on track in the day and night of the October Georgian air. Most importantly, at least to this audience, is the second round of Formula Drifts' 2011 season that started in 2004.
The section of the track that is used is the turn 10 complex. Historically, the course begins just as the long straight goes down hill at or near the 200 meter braking mark, you build up a lot of speed with 100 meters where you enter turn 10-a, a left hand 90 degree turn. This was made famous last year by Tanner Foust, Mike Essa, Robbie Nishida, and Conrad Grunewald making backward and 90+ degree entries in qualifying and has been a nose clipping point at the apex. From there you enter turn 10-b, a right hand 90 that is usually a rear zone that you must carry through the corner and carry a drift into the "P-turn." This right turn entry is a nose clipping point into a left hand rear zone that can catch some guys off guard and can begin to stall or bog the engine down if timed wrong. The exit of the P is a nose clipping point as well and can bee seen as a long left hand turn and the drift must be carried all the way back to turn 10-b, no small feat for underpowered cars and is where the V8s have held the advantage in past years. Turn 10-b then becomes a left hand, nose clipping point that you must transition back into turn 10-a, which is now a right hand, nose clipping point to the coast down, well, up area and back to the starting line and staging area. It's a fast, scary ride for rookies, but awesome to watch the locals and pros do their thing on the course and some how, I think the 90+ degree entries will become the norm for the hang it all out crowd.
After some initial disappointment from Round One, where the Mustangs appeared to struggle with Long Beach, Justin "JTP" Pawlak found the magic to win round one. The Michigan born, Long Beach resident has been involved with drifting since 2006 and Round One is currently his only event win in his career in Formula Drift other than Formula Drift Mexico and Team Drift at Long Beach in '09. His best points finish prior to Long Beach was 3rd at Irwindale in 2008. He was privateer driver until 2009 when he joined Bergenholtz Racing in their Mazda RX8 and around the same time, JTP started Hot Line, a race, maintenance, and performance shop located in LA. He shop is seen as an incredible tuning and fabrication facility and he has the education to back that up.
Then in 2010, he joined Team Falken and ASD, where he has success in the 2010/11 Mustang, with him scoring the win in his Roush-Yates Performance 410 Cubic Inch Powered 2011 Ford Mustang. Some other interesting, non-drifting facts about JTP is that he had a full ride in collage through Soccer, is a graduate of UTI, and holds an Associates Degree in Business Management. Justin Pawlak will be a great success in Formula Drift and this could be his year for a Top 3 or, dare I even say the Championship? The rest of the year still has to play out before I can really say.
The shock of the 2011 season started early, with Monster Energy/Falken Tire pilot and 2010 Formula Drift Champion, Vaughn Gittin, Jr., not qualifying for Round One at Long Beach. After such great success in 2010, how could this happen? The Monster Energy V8 machine, the dominating Falken Tire, the easy ride of Drift Alliance, why didn't any of this play into him going into 2011 with an easy time as champion for this year? Because, despite what the hardcore wants you to think, money will not buy championships and the best car in the world won't make up for mistakes. It's the string of success and failure that creates the champion and it's the lessons of failure that will make a man into a legend. He made mistakes in his qualifying runs that earned him a 33rd spot and result in the DNQ. This could be a huge blow to a title defense, but JR is not an ordinary champion. He's driver that knows what being hungry means. He gives 110% when he would only need 90%, he doesn't take an easy and is constantly trying to stay ahead. I personally saw this at Irwindale, despite being crowned champion early that day, he was still in it for the show and wanted to end on top. He won't take this loss lightly, but nor will his mechanics, led by Ian Stewart, 2010's Mechanic of the Year. The men supporting JR are just as hungry and dedicated to keeping that title in his hands as he is. They will fight tooth, nail, wrench, and tire smoke to have a repeat year, so don't count Vaughn Gittin, Jr. and the Monster Energy Mustang out just yet.
Now, who is this guy, this Ryan Lanteigne? Other than becoming the Judge to take Ernie Fixmer's place, we don't really know much. He was a judge for the Drift Mania Canadian Championships in 2010 and also has some experience as a driver in the BFGoodrich Pontiac GTO in DMCC's East Series, in which he placed 7th overall in 2009. From the videos I've found of him, he looked to be a fairly decent and clean driver, but not overly aggressive. Honestly, looking him up on Google doesn't turn up much, however that may not be a bad thing. It means the fans can't blame him for favoritism, except for maybe towards BFGoodrich drivers. In my opinion, I don't think he did a bad job in Round One, with mostly good calls and not being controversial. Give him this year, he'll get better and I don't think he'll do bad at all.
So, 2011 is working out to be a year of changes. Changes in judging, changes in rules, changes in venues, and changes in who's hot and not. More change is coming and round two will be no exception as the event is building to be very exciting. With record attendance at Long Beach, Road Atlanta could potentially burst at the seams and set new records from attendance to qualifying to the show. Will JTP continue his good streak? Will Lanteigne be the deciding factor for Round Two? Will the tire rule rear it's head and really affect the driver's with smaller tires? Who will go big, who will go bang? Will JR recover and get back on the Road to the Championship? I don't have those answers yet, but we all will on May 7th when Jarod Deanda calls out the winner after sending them down the straight at the end of that Hot Georgia Night.
See y'all there!
Last Note:
I will be at Road Atlanta again this year to interview the driver's of Formula Drift for Drifting.com! I won't give away who I will interview, but I will begin to give a new perspective on FD. I'm going to do my best to start getting some of the guys who normally don't get the highlights, the mechanics that make these driver's cars perform at their best. In photos, words, and video, I want these guys to be seen and heard. As a guy who's worked as a tech, parts driver, and service writer, I know what it takes to make a car what it is and show that appreciation by giving these guys an outlet. So be prepared, it may not just be drivers I interview!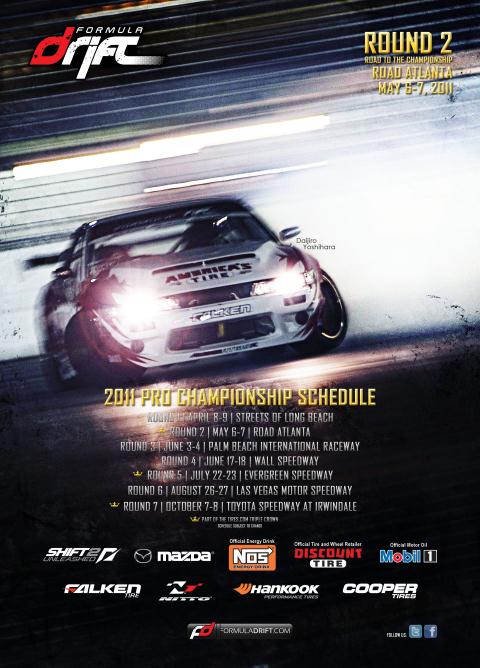 http://www.drifting.com/forums/general-chat-drifting-discussion-news-and-site-updates/30352-on-the-road-to-the-championship.html
downloadfilmterbaru.xyz
nomortogel.xyz
malayporntube.xyz