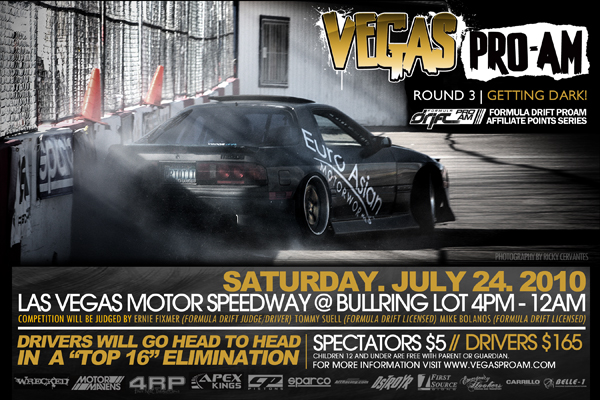 VegasProam Round 3 July 24th 2010
When: Saturday Night July 24th 2010
Where: Las Vegas Motor Speedway Bullring Lot
Drivers Register HERE
http://www.vegasdrift.com/registration
VegasProAm follows a Formula Drift style event format to help drivers get the feel of what will be expected from them at the next level of competition.
Schedule
2:30pm – Gates Open
2:30pm – 3:30pm – Tech Inspection
3:30pm – 3:45pm – Mandatory Drivers Safety Meeting
3:45pm – 4:00pm – Course Walk Through
4:00pm – 7:50pm – Open Practice
8:00pm – 8:15p – Qualifying Drivers Meeting
8:30pm – 9:15pm – Qualifying
9:30pm – 9:45pm – Qualification Results/Drivers Meeting
10:00pm – 11:30pm – Top 8/16 Tandem Competition
11:45pm – 12:00pm – Award Ceremony
Group 1 – Tandem Drivers *Censored*(have the ability to move in to Top 8/16)
Group 2 – Non-Tandem Intermediate/Advanced Drivers (practice and qualification)
Some Frequently Asked Questions
Q: is this a beginner event?
A: NO. If you have a few events under your belt and do not have a cage you can still practice and earn points for qualifying. *Censored*(last event 2 non caged drivers broke into the Top 16)
Q: Will there be on-site tire changing?
A: Yes!
Q: I do not have a cage or a race suite will i be able to participate?
A: Yes – you will be able to practice in a "Non-Caged" Practice Run Group (no tandem) and have the opportunity to earn points from Qualifying, but you will not be able to move forward in the competition to the "Top 8" or "Top 16" You will have to pass a normal "Vegasdrift Practice Event Tech inspection" the tech sheet can be found Here
Q: Will I be able to participate in Tandem with a bolt in cage? *Censored*
A: Yes – however if you earn your license or are awarded an invitation to ProAm Nationals your car has to meet all of the tech requirements in the Formula Drift ProAm
Q: How many "racing/bucket" seats are required for Tandem?
A: You will only need one "Bucket" Seat and one certified harness
Q: Do i need a full fire suppression system?
A: We require one 2lbs extinguisher mounted securely with a quick release, within an arms distance, while the driver is seated. Once again if you move on to Nationals your car must be fully compliant with the Formula Drift ProAm Rulebook.
Q: Does my Battery need to be relocated to the Trunk, or inside the car?
A: No. But for tandem we do require a cut off switch that will shut the car down. *Censored*
Q: Can I pick my own number?
A: No, we will not be taking number requests. *Censored*Participants will receive 1 free set of door plates. Additional Door plates will be $10.00 a set.
Q: Are there ride alongs?
A: There are NO ride alongs.

downloadfilmterbaru.xyz
nomortogel.xyz
malayporntube.xyz