Ok, I am listing a long-forgotten project car for sale. It is a Texas car and is garaged winters, and really needs to go.
Located in Richmond, Indiana and my email is
paradoxgdf@yahoo.com
It is a SOLID chassis, no rust, factory sunroof and factory 5 speed car. It has MSD 6AL with rev limiter pills, a high volume, low pressure fuel pum and it has a 4AG from an AW11 with 112k miles with Keihin 38mm carbs on it and runs and drives. It has a autozone lifetime altenator on it. The carbs definately need tuned and I cannot do it. It has a new clutch (installed 3 years ago or so when the 4ag was dropped in), and has around 500 miles on it since then. I think it has 180k on chassis, need to look.
It has not so good interior, but I have good sr5 front seats somewhere that can go with it.
Come make me a offer, it is ugly but I refuse to paint/primer it because the value of this car is that it has never been repainted and is clean. Asking $2750 with stock wheels, and I have a set of black racing wheels (look like watanabe) I will throw in for an additional $300 IF you buy the car.
I also have a MS2 and ITB setup I will throw in for an additional price. I am considering putting them on now, but do not have the skill/time.
I will trade UP for the right car, consider straight trades and even trading down, but I should reduce my inventory. Here is one picture, I need to try to take more tomorrow.
Someone buy this so I can get other projects done. If this did not have a sunroof, I would have built this for myself...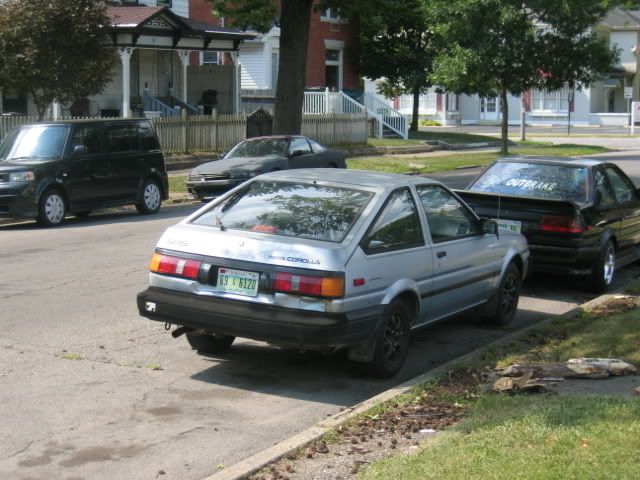 More Pics...