Hey everyone,
This event has been kicking around for sometime now. A group of buddies and I from the Islands are organizing this event. We would like to invite everyone from Drifting.com to come on this cruise!

Sunday, October 1st 2006, RAIN OR SHINE
Meeting Place:
http://maps.google.com/maps?f=q&hl=e...12208,0.033388
Burlington, WA. Cascade Mall parking lot, the southeast corner, sandwiched in between Sears and Macys in the mall, and Applebees kitty-corner in the lot. To get there, head towards Burlington. Coming north or south, you'll take Exit #230 and then an immedaite right on SR20 - it'll say "Anacortes / Oak Harbor" on the sign. G 3-4 blocks and stay in the right hand lane until you get to Burlington Blvd. You'll have a Shell station on your left and a Jack in the box straight ahead on the right side. Take a right turn, south onto Burlington Blvd. Count the stoplights - turn right on the third one, as you're passing Cascade mall, then an immediate left when the road "T"s, and park HERE.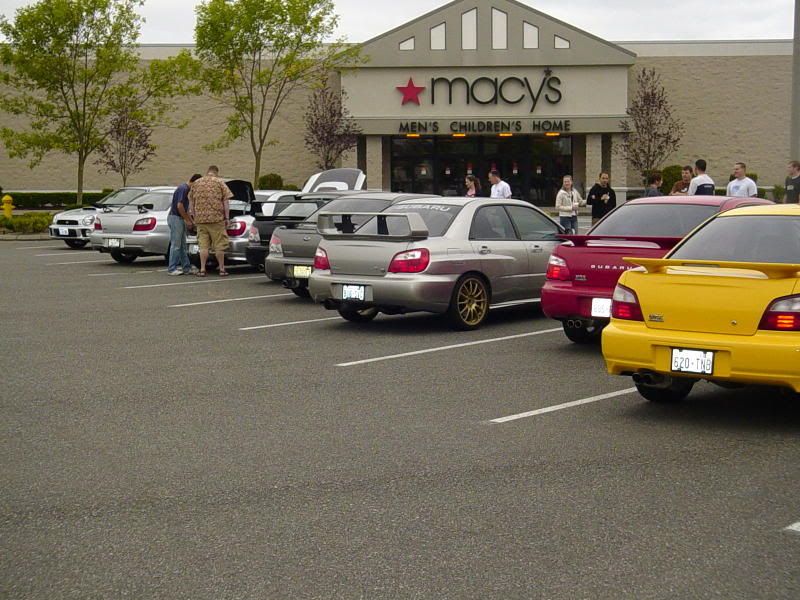 Few other pics from past cruises:
General Info:
Please be at the parking lot no later then 10:00 AM so those with cameras can snap some pics and everyone introduce each other & what not. Short and informal "driver's meeting" will be held once everyone's arrived, to go over the basics, make sure everyone's set as far as radios go, then we will head out towards Baker hopefully before 10:30.
-Bring an extra layer of clothes "just in case"
-There will be a $5.00 per car fee payable to the National Forest Servce when we arrive near the ski area upper "Heather Meadows" lodge to proceed all the way to artist's point and to use the parking lots. I might be asking for a bit more money than that upfront, in the morning, if we are going to be able to use Mt. Baker Ski Area's lower parking lot for lunch, and possibly setting up a small gymkhana course.
-a picnic lunch and plenty of water/drinks, not very many stores on the way up
-a Motorola Talkabout-style "FRS" radio that's capable of using the security codes - we will be on [/b]channel 07, code 04.[/b]
Rules:
No overly aggressive driving will be tolerated - you
will be asked to leave
. We're a bunch of driving enthusiasts going out on a spirited drive, not a Gumball rally
I trust that everyone knows the difference between having fun and romping on it in the right places, and being plain dangerous or stupid. I'm young, but I've seen a LOT of asshattery on group drives, and I'm not going to tolerate it on this one. I want to have the atmosphere where you can bring your girlfriend (or wife and kids for that matter) and not have them feel endangered or scared.
Consider:
Fuel past Bellingham is CRAP not to mention expensive. there IS a Shell station in Maple Falls, but prices there are usually ~50¢ higher than Seattle prices :*Censored**Censored**Censored*: There is a Chevron directly across from the Cascade Mall parking lot and you pass a Shell station at the intersection of SR20 and Burlington Boulevard just after you turn off I-5.
We'll all drive back and start splitting off whenever people have to head, but don't plan on being back in Burlington before 3pm, longer if the gymkhana works out. Some people have expressed intrest in taking a detour on the way home and running the fabled, fun, twisty-yet-very-short Chuckanut Drive. Who knows... As long as everyone has fun, I'll be happy.
Official "Who's Definetly Coming list"
Sam, "SamuraiSam" borrowed Nissan S13 "fatbodied sil-eighty"
Marc, "icsbnr32gtr" Nissan R32 GTR (almost stock)
eDDi "Realchaos1" Nissan S13 hatch, white and 2 liter.
Erik _________ Nissan S14, JDM kouki front and SR powered.
Mark "usagtrpilot" Nissan R33 GTR plus mods
Rob "Ace" Nissan S14, widebody with a kouki front, (poss. not driving)
Justin "rx7weee" Mazda FD RX-7 with jay-dee-emm touches
Matt "Smurf" Mazda FD RX-7 Former SCC "Project FD"
Mitch _________ Honda EG hatch (H22 powered)
Jon J "A&F model" 1969 Ford Mustang California Special
Crescent "C-SPEED" Acura NSX?? (guessing)
Gary C. "PETC" SW20 2nd gen Toyota MR2
Andrew J, ________ 1969 vinyl top Camaro
Colin F __________ 1st gen MR2 with knockoff GAB rims
Isaac "backtrail69" BMW E30 325is(+turbo+megasquirt)-emissions
B-Fra, Brandon "4ce30" 90 BMW E30 dumped
Josh-Fra "e30josh", 88 BMW E30, turboed and Megasquirted
Spencer "o2tii" 1972 BMW 2002tii, restored and barely stock.
Matt "ACR Racer" 1994 Miata
Nathan __________ DC2 w/mods...
"87_7MGTE" 1990 Toyota Supra
Christian _________ R32 GTR plus fast.
Jonny ___________ MKIV Supra, with turbos.
Donny "Import Tuner" ???????
Zach "fastfour" ???????
"SAMIboarder" either an '88 or '93 RX-7
"ROuNdel" 2006 VW GTi
"r0ckrat" 1993 M3
"Tucked M3"
Qui "Tipstylez" green S13 coupe
Zach "1985zcar" green Kouki S14
Faizan "stealthninja296", black 'Skyline' Infiniti G35,
Danele "girltron" Nissan 240sx hatch, midnight blue
Chris- Blue 200sx SE-R- front mount, turbo, lots of CF stuff
Jackson "jvphoto" s13 240sx Coupe, champagne with rising sun on trunk
Cody "" Z32 300zx, Maroon N/A
Ray "Pacfwu" Yellow Nismo S-Tune 350z
Bunta "OldschoolBunta" "rolla" (Audi A6?)
Logan "M4LFUNCT10N" '91 300zx, turbo
+18 members of "STFU" crew including several GT-R's.
Let me know if you're planing on coming, what you'll be driving. Post pics of it and introduce yourself in the thread!