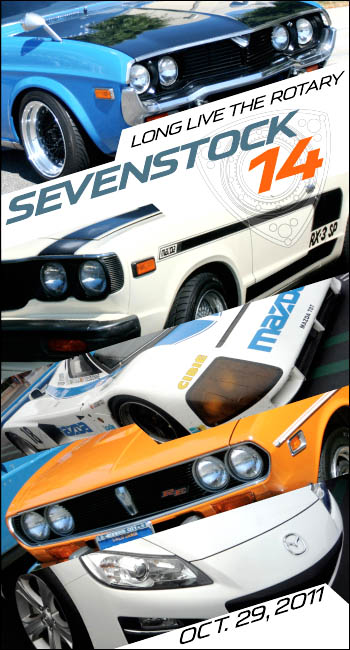 Seven Stock 2011 - October 29th, 2011
By SevenStock
SevenStock-14 "Long Live the Rotary"
Attention ALL Rotary Fanatics and Enthusiasts!
The SoCalRX Club is announcing that SevenStock-14 is officially a go and will be held on Saturday, October 29, 2011! This year we say "Long Live the Rotary Engine!"
The SoCalRX Club, will again host the
BIGGEST ROTARY SHOW in the World!
Come on out and join the legions of Rotary Enthusiasts on this special day of Rotary celebration on the grounds of LA FAIRPLEX in Pomona, CA. Vendors and RE enthusiast from around the globe, including Japan, Australia, and Europe attend our little BBQ every year, and this year will be no exception.
So get those NEW Rotary projects on the fast track, go ahead and stick that 20B in there, upgrade the ECU, brakes, etc and get ready for another fun filled RE weekend on 10/29/2011!
For more information regarding SevenStock-14, please keep an eye on this site for updates regarding the event. Special Hotel information can be found here at this site as well, so get your rooms booked early!
Schedule
6:00AM Gates open for display vehicle staging (Gate 17). Click here for requirments for displaying your vehicle.
6:00AM - 7:30AM Display Car Staging & Parade Lineup *arrive early, space is limited
7:45AM
Display Vehicles roll out of Staging Area & head towards the show area.
Parade Participants
The distance is approx. ½ mile. Keep it under 15 mph. Please follow the car ahead of yours and prepare to stop at any time.
Parade Watchers
If you arrive early to watch all the vehicles roll in, please keep clear of their path. It's for your safety & prevents delays.
9:00AM Gates open for General Admission
10:00AM Welcome remarks and announcements
1:30PM Raffle Starts
3:00PM Event ends. (All display vehicles allowed to exit.)
TBD Tech Seminar
Zoom Zoom!
SoCal RX Club
SevenStock Crew