[IMG][IMG]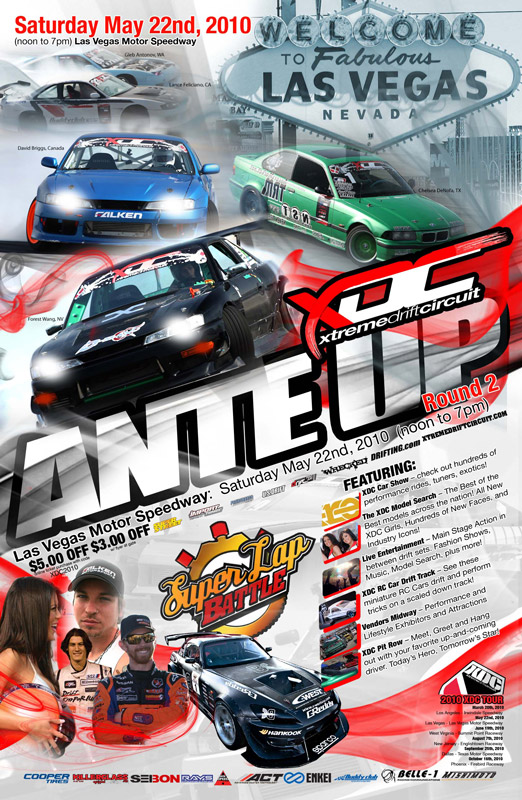 [/IMG][/IMG]
Xtreme Drift Circuit and REMIX Award Tour Announce New Sponsors for 2010 Season
May 10, 2010 (Tustin, Calif.) – With only its second event on the horizon, the Xtreme Drift Circuit is proud to announce the addition of several series partners that will join the tour beginning at the May 22 event at Las Vegas Motor Speedway – pointing to the strength and momentum that XDC and REMIX have accumulated following a successful first event at Irwindale Speedway.
With a long history in the tuner community as well as professional drifting, Scion Racing will be adding to their involvement in the sport as they will join XDC starting with the Las Vegas event. Known for their two-car Formula Drift team and Scion VIP hospitality areas at events around the country, Scion Racing will now have a major presence at select XDC events.
Another important addition to the XDC season will be Del Taco. The Southern California-based fast food chain will become involved not only as a corporate sponsor, but as a promotional partner, using its locations to promote the XDC events.
Making their debut as part of XDC will be the Midnight Gaming Championships. The Midnight Gaming Championships, featuring sponsors AT&T, XBOX, and McDonald's will be joining XDC at the Las Vegas, West Virginia, New Jersey, and Dallas rounds, adding another exciting dimension to each XDC event.
Also at XDC Las Vegas, XDC Events will also be collaborating with Light Group for its MIRAGE/Jet after-party following XDC Las Vegas on May 22, which event spectators can attend for free with their ticket stub from the event.
"We are very proud that two shows into the inagural season, these major companies are signing on to become a part of the future of XDC and REMIX," said Mike Munar, president of XDC Events. "The response and momentum we have had since Irwindale has been very strong, which is shown by the addition of savvy entities such as Scion Racing, Del Taco, and the Midnight Gaming Championships to the rest of our season. The opportunities that our new partners will present us will help the drivers of the XDC, the participants of REMIX, as well as add content for the attendees. It's a win-win all around."
The next stop on the XDC/REMIX schedule is the May 22 event at the Proving Grounds of Las Vegas Motor Speedway in Las Vegas, Nevada, in which XDC and REMIX will be joined by the Super Lap Battle.
2010 XDC Events Schedule
March 20, 2010 | XDC/REMIX | Toyota Speedway of Irwindale, Irwindale, CA
May 22, 2010 | XDC/REMIX | Las Vegas Motor Speedway, Las Vegas, NV
June 19, 2010 | XDC/REMIX | Summit Point Raceway, Summit Point, WV
July 31, 2010 | REMIX | Sunlife Stadium, Miami Gardens, FL
August 7, 2010 | XDC/REMIX | Englishtown Raceway, Englishtown, NJ
September 25, 2010 | XDC/REMIX | Texas Motor Speedway, Fort Worth, TX
October 16, 2010 | XDC/REMIX | Firebird Raceway, Chandler, AZ
December 11, 2010 | REMIX | Blaisdell Expo Center, Honolulu, HI
XDC is sponsored by Scion Racing, Del Taco, Cooper Tire, Killer Glass, Enkei, Mishimoto, Buddy Club, UTI, Greddy, Rays Engineering, ACT, Keep It On The Track, Drift Speed, Belle-1, Performance Auto & Sound Magazine, Import Tuner, Super Street, Wrecked Magazine, Drifting.com, and US Drift.