NEW PARTNERS JOIN XTREME DRIFT CIRCUIT IN 2011
Industry leading companies partner with XDC to provide support for drivers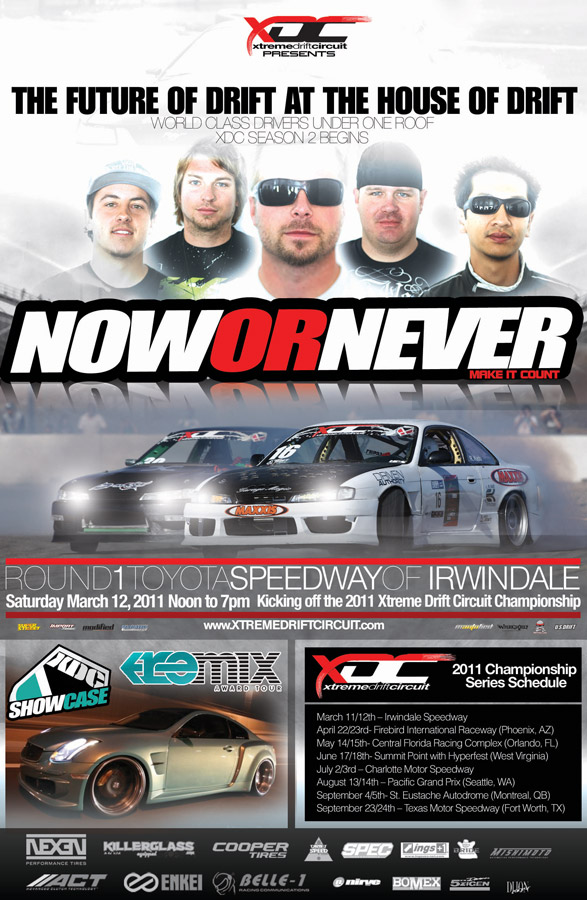 March 3, 2011 (Tustin, Calif.) – With the eagerly anticipated kickoff event of the second season of the Xtreme Drift Circuit only days away, the series is proud to announce the companies that will be partnering with the series in 2011.
Signing on as a series sponsor is Nexen Performance Tire. Nexen, who supplied tires for Chelsea DeNofa as he took the inaugural XDC season championship, will support the series as well as several drivers in the championship throughout 2011.
"We have a large focus in supporting grassroots drifting with competitive, durable tires," said Mike Meeiem of Nexen Performance Tire. "We kept our eye on the XDC throughout their first year and they had an outstanding year, so getting involved with them in addition to having the teams that we support was a natural next step."
XDC is also proud to announce that Megiuar's will join the XDC as a series sponsor. The car care products company will have a major presence at XDC events, particularly within the REMIX Car Show. Meguiar's will also supply Car Care Packages to all the registered participants at each car show, while the winner of each category will receive a Meguiar's detail kit. The owners of the cars voted Best of Show and Hottest Paint & Finish will receive the Ultimate Meguiar's Package.
In addition to the major sponsorship from Nexen and Meguiar's, several other major industry companies will be supporting the series and its drivers in 2011.
A new player in the drifting scene, Kenda Tires, will be supporting the series in 2011 in addition to providing discounted tires to the drivers of XDC as part of its Kenda Tire Race Support Program. Major support for XDC drivers will also come from clutch companies Advanced Clutch Technology, Spec Clutch, and Clutch Masters.
"We have worked to eliminate hurdles for our drivers to receive support from companies that will allow them to continue drifting – as well as helping companies to get involved in supporting the grassroots drivers," said Mike Munar, president of XDC Events. "We want our drivers to reap the benefits of companies supporting XDC and we want to make it as cost-effective as possible to compete in these times."
The series recently announced a total season payout of $92,400 with XDC's Five Ways to Win – consisting of payouts at individual events, XDC Canada, and championship prizes for XDC East, XDC West, and the XDC National Championship.
The first event of the 2011 Xtreme Drift Circuit is next weekend, March 11-12, at Toyota Speedway at Irwindale in Irwindale, California.
2011 XDC Events Schedule
March 11-12 | XDC West | Irwindale Speedway, Irwindale, CA
April 22-23 | XDC West | Firebird Raceway, Chandler, AZ
May 14-15 | XDC East | Central Florida Racing Complex, Orlando, FL
June 17-18 | XDC East | Summit Point Raceway, Summit Point, WV
July 2-3 | XDC East | Charlotte Motor Speedway, Charlotte, NC
August 13-14 | XDC West | Pacific Grand Prix, Seattle, WA
September 4-5 | XDC International | St. Eustache, Quebec
September 23-24 | XDC Finale | Texas Motor Speedway, Fort Worth, TX