so this may be it for me...
tired of my car...
I'm getting old...
wife hates the car...
1992 red s13 with 200k on chassis (I've driven it since 60k, way back since 1996), so it's been maintained by me... regular oil change, regular maintenance, alignment by West End, Hiro's
redtop sr20det (rebuilt, less than 2k miles, FRESH)
don't recall all that's replaced, but I know the following was replaced:
pistons/rings,
headgasket,
studs,
oil pump,
water pump,
s15 exhaust gaskets,
a whole bunch of other gaskets/seals,
probably other stuff I don't recall..
Engine/Power/Drivetrain:
s15 T28 (~2k miles on it with the rebuilt)
HKS Adjustable wastegate
SS braided turbo lines
Greddy RAS
Catch Can
Z32 MAF
Greddy Cone Filter
Piping Pro T28 Aluminum Cold Air Intake
FMIC (aluminum cold/hot pipes)
HKS SSQV
Koyo Radiator
550 cc injectors also have 370's somewhere...
Z32 Fuel Filter
Walbro Fuel Pump
Greddy Turbo Elbow
HKS 3" Downpipe
3" Catco Cat
3" Apex N1 Exhaust w/ silencer
Exedy Stage 2 Clutch
KAAZ 2 way LSD
C's Short Shifter
Power Steering
WORKING COLD A/C
Electronics:
Apex Power FC tuned by XS Engineering
Greddy Profec Boost Controller
Greddy 52mm gauges = water temp, oil pressure, boost
Innovate LC-1 Wideband with Datalog
Interior:
R32 GTR front seats (driver/passenger) in good condition, all 4 bolts mount
may include a set of S14 front seats (driver/passenger)...
S13 Manual Seatbelts, that's right, S13 manual seatbelts (not S14)
Momo something something steering wheel (not the cheap kind)
Philip's special Cue Ball Shift Knob
some Momo race pedals
Sound (don't know the specifics):
some 6.5 inch speakers on front
some 10 inch rockfords subs in the trunk
some 200watt sony cd player
some amp
Suspension/Brakes/Chassis Stiffening stuff:
5 lug conversion
Z32 Brakes up front
Z32 SS lines
Russell Speed Bleeders
Larger/correct brake master cylinder
will include 4 lug 180sx brakes up front
JIC FLTA-2 Coilovers, with camber plates
Tein Tension Rods
S14 Kazama Outter Tie Rod ends/Tein Inner Tie Rod
S13 Super HICAS Steering Rack
S13 Super HICAS 21mm Sway Bar
Adjustable RUCA
Nismo Power Brace
Fender Brace
Pillar Bar
Trunk Bar
Front/Rear Strut Bars
Rear solid bushings
Security:
Some cheapass alarm, viper
Kill switch
L2 Quick Release
Momo extended hub
I'll throw in the club for good measure, ha
Wheels:
6 of 17 X 9 +27 Atech's,.. okay, MB Weapons, Bronze
tires in good condition, federals 245/40/17, 235/40/17
pair of 5mm hub centric spacers
pair of 10mm hub centric spacers
Exterior:
JDM side skirts
Zenki Lip that's beat to hell...
There's probably alot of other stuff I forget, but I'll update it later,
it's clean title
yeah, I know I won't get anything close to what I've spent (which is more than $20k over many many years)
let's start with $9k for now...
email is best, i don't check here often
wei240sx@yahoo.com
I'm in socal, irvine area
I'll post other pics/interior shots and such... after I get home from work...
from the not so distant past: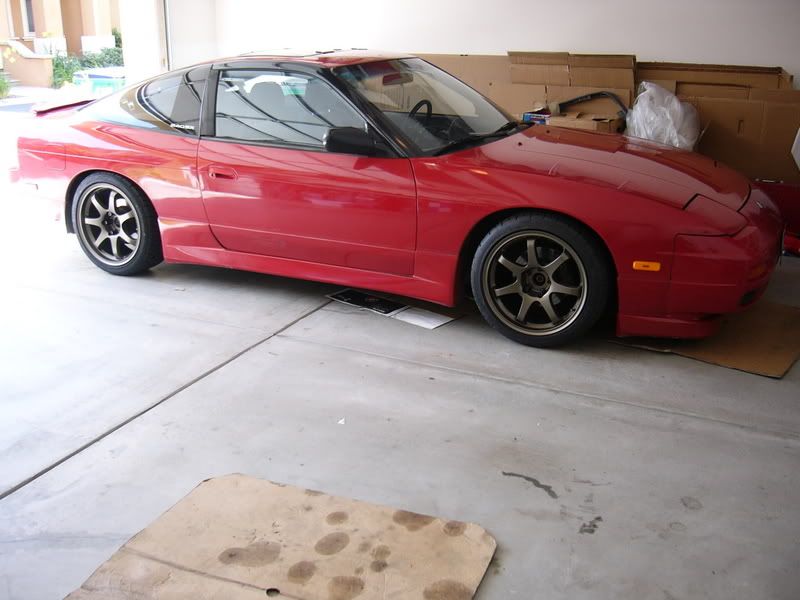 when it had z wheels..